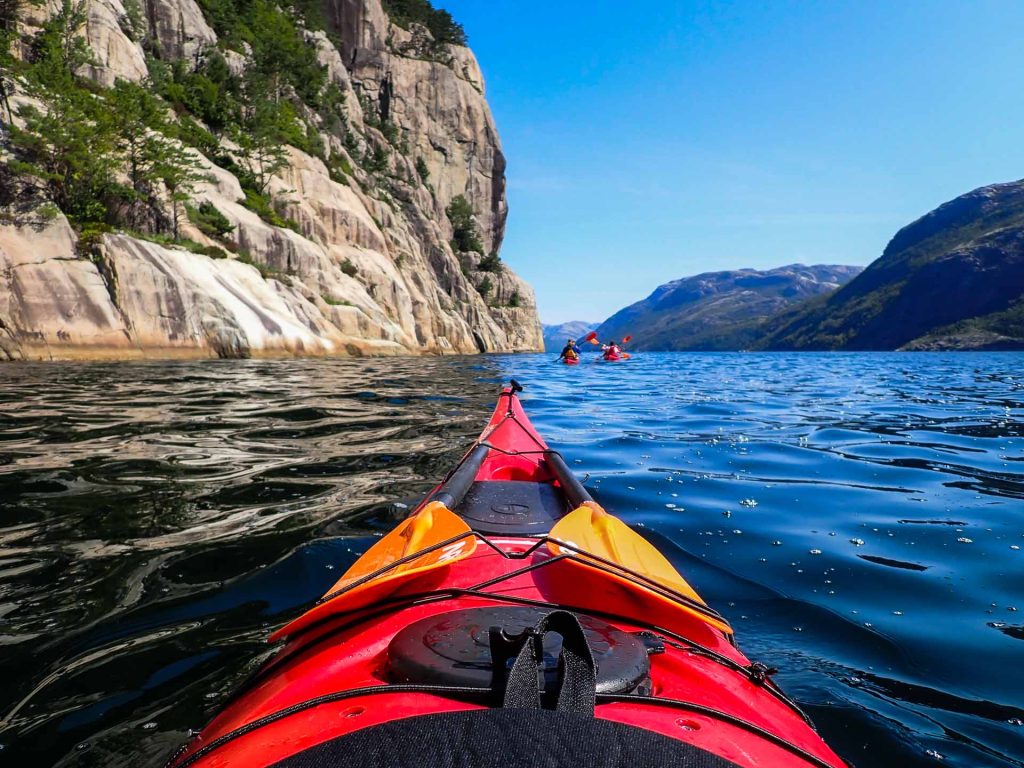 There are several companies in the Lysefjord area that offer kayak rentals. When choosing a rental company, it's important to consider the type of kayak you want to rent and the length of your trip. Some companies offer single and double kayaks, while others may also have options for stand-up paddling boards or small motorboats.
One of the best things about kayaking in Lysefjord is that there are options for paddlers of all skill levels. If you're an experienced kayaker, you'll find plenty of challenging routes to explore. For those who are new to kayaking or just looking for a more relaxed experience, there are also plenty of calm, sheltered waterways to paddle through.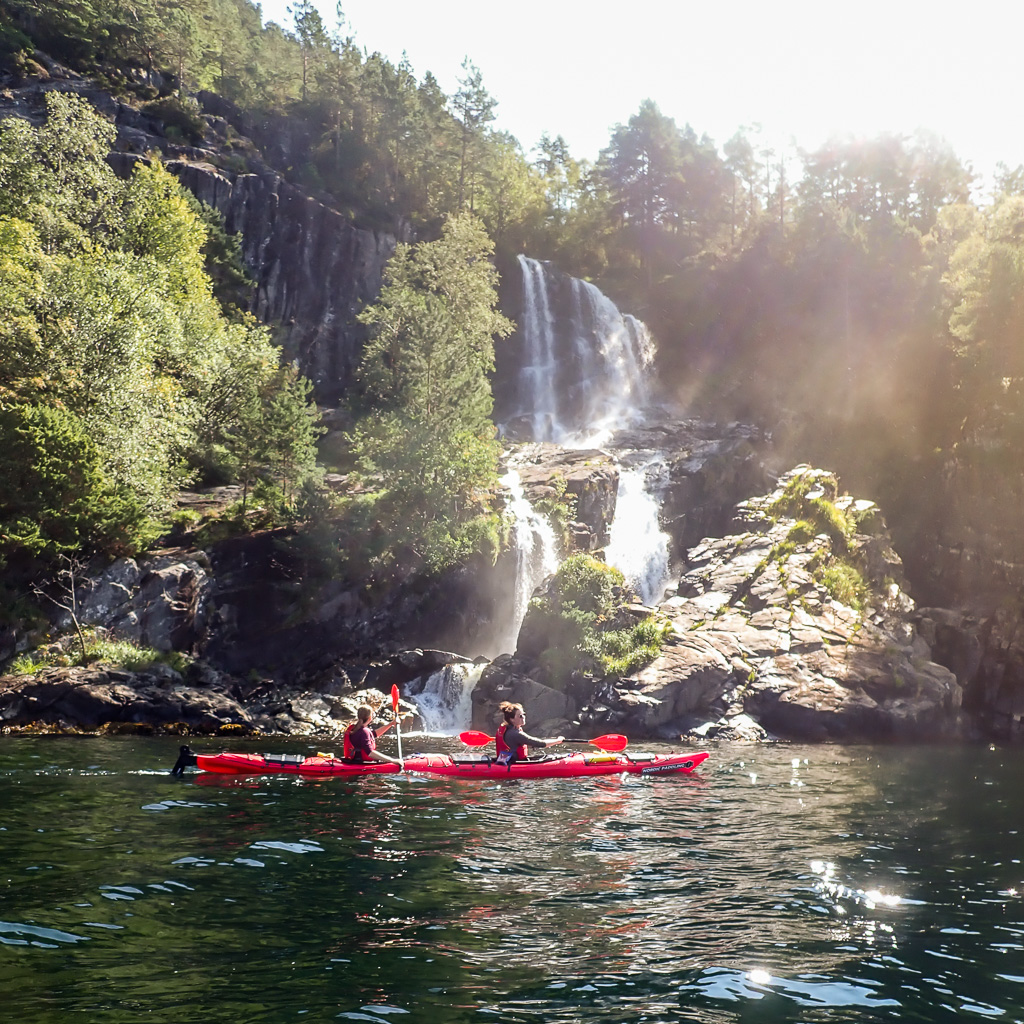 Safety
Before you rent a kayak in Lysefjord, it's a good idea to familiarize yourself with the local regulations and safety guidelines. In Norway, it is generally required that individuals who wish to rent kayaks have a valid certificate proving that they have completed a kayaking course or have sufficient experience and knowledge to safely operate a kayak. Some rental companies may be willing to waive this requirement for individuals who can demonstrate their proficiency through a short on-water assessment or by providing a letter of recommendation from a qualified instructor. You can also join a guided tour available within the fjord, these don't require any proof of skill or certification and are very suitable for beginners and experienced paddlers alike.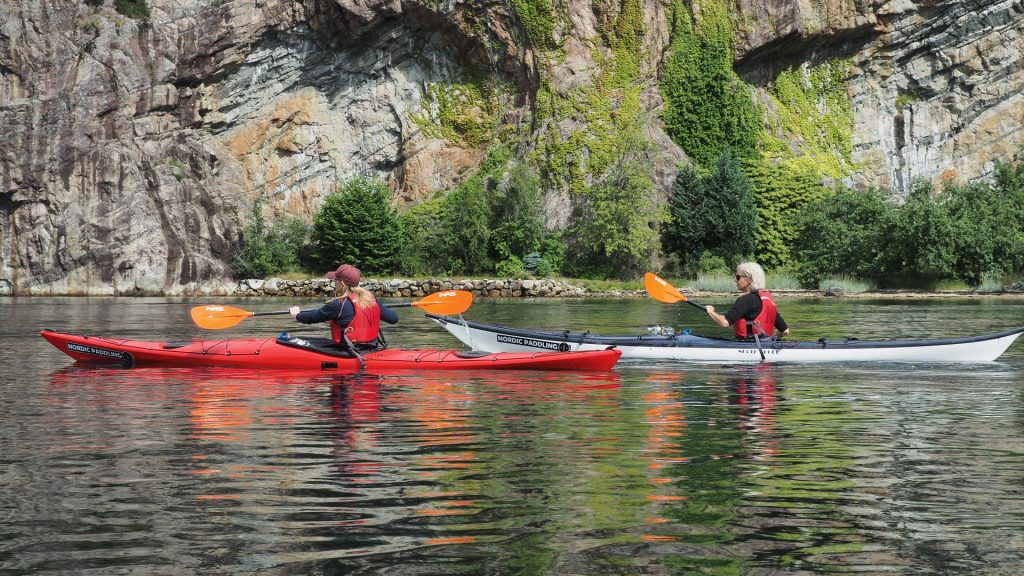 Once you've got your kayak and you're ready to hit the water, you'll be treated to some of the most beautiful scenery in the world. The Lysefjord is home to a number of iconic landmarks, including the Pulpit Rock, which is a massive rock formation that stands over 600 meters above the water. Other popular destinations for kayakers include the Kjeragbolten, a boulder that is wedged between two cliffs, and the Flørli Stairs, which is a set of over 4,000 steps that lead up to the top of a mountain.
Overnight trips
If you're planning to spend a few days kayaking in Lysefjord, there are several campgrounds and guesthouses in the area where you can stay. Many of these accommodations offer amenities like hot showers, laundry facilities, and BBQ areas, which can make your trip more comfortable.
Here are a few of our recomendations for guesthouses and campgrounds within the fjord:
Guesthouses in Lysefjord
Camping spots in Lysefjord
Whether you're looking for a relaxing getaway or an adventure-filled excursion, a multi-day kayak trip in Lysefjord is sure to be an unforgettable experience.
Overall, kayaking in Lysefjord is a truly unforgettable experience. Whether you're an experienced paddler or a beginner, there is something for everyone in this stunning part of Norway. So why wait? Start planning your kayak rental in Lysefjord today and get ready to experience all that this incredible fjord has to offer.