Most kayaks can have a loading capacity of between 100-160 litres, which is equivalent to 2-3 average hiking backpacks. Imagine going on a backpacking trip, not having to choose between must-have items and nice-to-have items! Well, that's the reality of kayaking (as long as you're not making any record-breaking attempts that is)! But having equipment or things which you don't need will slow you down, and that's where this guide comes in! Throughout this guide, you will see that I emphasize on used space rather than weight carried. 
What I usually bring + all my "Nice-to-haves", including camping chair, speaker & multiple cameras.
After years of multi-day touring in kayaks and over 600 days wild camping, I've compiled a list of all the essential items that you will need when multi-day kayaking in Norway. I will cover everything from your undies and toilet paper to equipment that will elevate your comfort on your trips by a mile! 
Clothing
The nature in Norway can be as rough as it is beautiful. If you prepare for the worst, you will only be positively surprised and never caught with your pants down. Only one rule, no cotton – wool is king! 
I usually pack all clothes in double dry bags to be sure they don't get wet. 
Inner-layer
T-shirt.

Sports T-shirts in polyester are good. Merino wool will not smell as much, dries fast and are lightweight, but slightly more expensive.

Thermal underwear with long sleeves

. Thermals for sports work fine, but if you tend to be a cold person, I recommend going with merino wool. Having a set when paddling and a fresh set for camp will elevate your comfort by a significant margin!

Underwear.

Often neglected but very important, for your personal hygiene! Use merino wool; these will dry quickly after a day of activity which prevents fungal-infections and smell. A pair for each day is nice, but not necessary.

Socks.

Woollen socks are your best friend in any situation. Have a pair for when paddling, a pair for camp and a pair in your sleeping bag.
Middle-layer
Sweater or down-jacket

. Woollen/fleech sweaters are nice, but takes up loads of space, space you could have used for your camping chair or extra snacks. I often go with a down jacket as it provides excellent warmth and stows into nothing. Worth mentioning, having a thin woollen long-sleeved shirt can do as well – I recommend the Acclima Hotwool for this!
Outer-layer
Gloves

. A thin glove or a thick mitten, personal preference. I tend to go with thin working gloves in the summertime and mittens from October-May. 

Hat

. A cap while paddling will protect your eyes from the sun, even on clouded days. Bring a woollen hat/buff for when in camp. Buffs are very versatile; they can be used under the cap while paddling or as a scarf. My personal packing list says "BUFFS LOADS OF BUFFS", for a reason.

Outdoor pants/shorts.

A good pair of pants for when in camp. These can be water-repellant or even close to waterproof if appropriately impregnated. If you have a good pair of outdoor pants, you only need that one pair. Personally, I love the Norrøna Svalbard pants and Fjørå Flex1 shorts. Some pants even have zip-off which offer both pants and shorts in one, like the Fjellräven Gaiter.

Shell jacket.

A shell jacket offers excellent protection against both wind, rain and even snow (may god forbid it in the summer). Lightweight jackets like the Norrøna Bitihorn takes up little to no space in the kayak and is entirely waterproof. Hardshell jackets are tougher than their lightweight counterparts but do take up more space. 
Remember to make space for the food.
Camping Equipment
I always pack the sleeping bag in a double dry bag, as this is the most important to keep dry. The inner-liner + sleeping bag socks stay in the sleeping bag to save space.
Sleeping equipment
Sleeping bag

. As the night temperature can vary quite a lot in Norway, even in the summer I recommend a good 3-season sleeping bag. Down or synthetic doesn't matter too much, down takes less space but is usually more expensive than the synthetic ones. Some people may argue that having a down sleeping bag in wet conditions is a risk as if it would get wet the down will collapse. This is not a problem as long as you pack it into a drybag like the SeaToSummit Ultra-sill compression bag. Investing in a proper sleeping bag will ensure a good nights sleep, which will make your day much better. 

Inner-liner

. You should either sleep in your thermals or in an inner-liner to protect the sleeping bag. Some times you can even get inner-liners that increase the warmth in the sleeping bag. Personally, I use a silk-liner, which is very comfortable when not sleeping in thermals. 

Sleeping mat

. Sleeping mats are just as important (if not more) as your sleeping bag. For kayaking, I recommend using an inflatable mat, as they don't take up as much space as the foam or self-inflatable mats. Your sleeping bag isn't warmer than your sleeping mat. Period. People often neglect the importance of a good sleeping mat. It's important because your sleeping bag won't be insulating anything on your back, as your weight will compress the down making no air-pockets (which insulates). The thickness of your sleeping mat will have something to say about how much you feel the ground under you. I have been using the same sleeping mat (Therm-A-Rest Neoair Xtherm) summer and winter, on every single trip the past four years. 

Tent

. A free-standing tent is the best and most versatile option for kayaking in Norway. It's not always possible to pitch the tent with pegs as the ground can be hard or even solid rock.
Hygiene
I usually pack all of these into the same dry bag but divided into smaller bags inside. The toilet-kit is generally in its own bag at an easily accessible place in the kayak. 
Toilet accessories.

Personal medication, tooth brush+paste etc. 

Toilet-kit.

A bag with toilet paper, hand sanitizer and matches (to burn the paper). For toilet paper either use regular, or you can use biodegradable toilet wipes/wet wipes (if a latrine is available), these are good in case your waterproof bag has a leak and can also be used for washing. 

Towel

. I recommend a microfibre towel/travel towel as they take up almost no space. 
Double waterproofing important equipment.
Cooking Equipment
Most of the cooking equipment doesn't require to be packed waterproof, except for the lighter and the stove – these should be packed in double dry bags. 
Knife

. A good all-use outdoor knife is essential on all trips. Remember to clean and disinfect before using it for cooking. I recommend the Swedish Mora knives like the Mora Companion. 

Cutlery

, plate & cup. As for cutlery, you can use a spork (get one in titanium, plastic pollutes and breaks). A good deep plate can be used for all meals. I usually use the cup from my vacuum flask or bring a fold-a-cup in my pocket. 

Lighter/matches

. For lightening the stove. I've begun to use a flint striker more and more, as this is also waterproof.

Storage for 2,5L of water per day.

You can use a water bladder of 5-10L. An inexpensive solution is using old 1,5-2L soda bottles. 

Water bottle

. I highly recommend using a Nalgene as a drinking bottle. They are durable and have a wide mouth which makes water collecting from streams and lakes much easier. In regards to water purification tablets, when I first came to Norway, I brought a lot of these, but to this day, I still haven't used a single one. The bigger lakes and streams are quite clean and fresh in Norway. The rule of thumb, don't drink from streams close to industrial or agricultural.

Cooking pot/pan

. A 5L pot will suffice for most 3-4 person groups. A kettle fits perfect into the pot and is much faster at heating water for coffee or tea. I usually also bring a non-stick pan, which does take up more space – but I really appreciate good food on multi-day trips. 

Gas stove

. Stoves like the MSR International can be used with both gas and gasoline, which makes it more versatile in changing conditions, though gas will do from April-October. I also bring a small stove like the MSR PocketRocket, for heating water. It's not very good for cooking but will get the job done.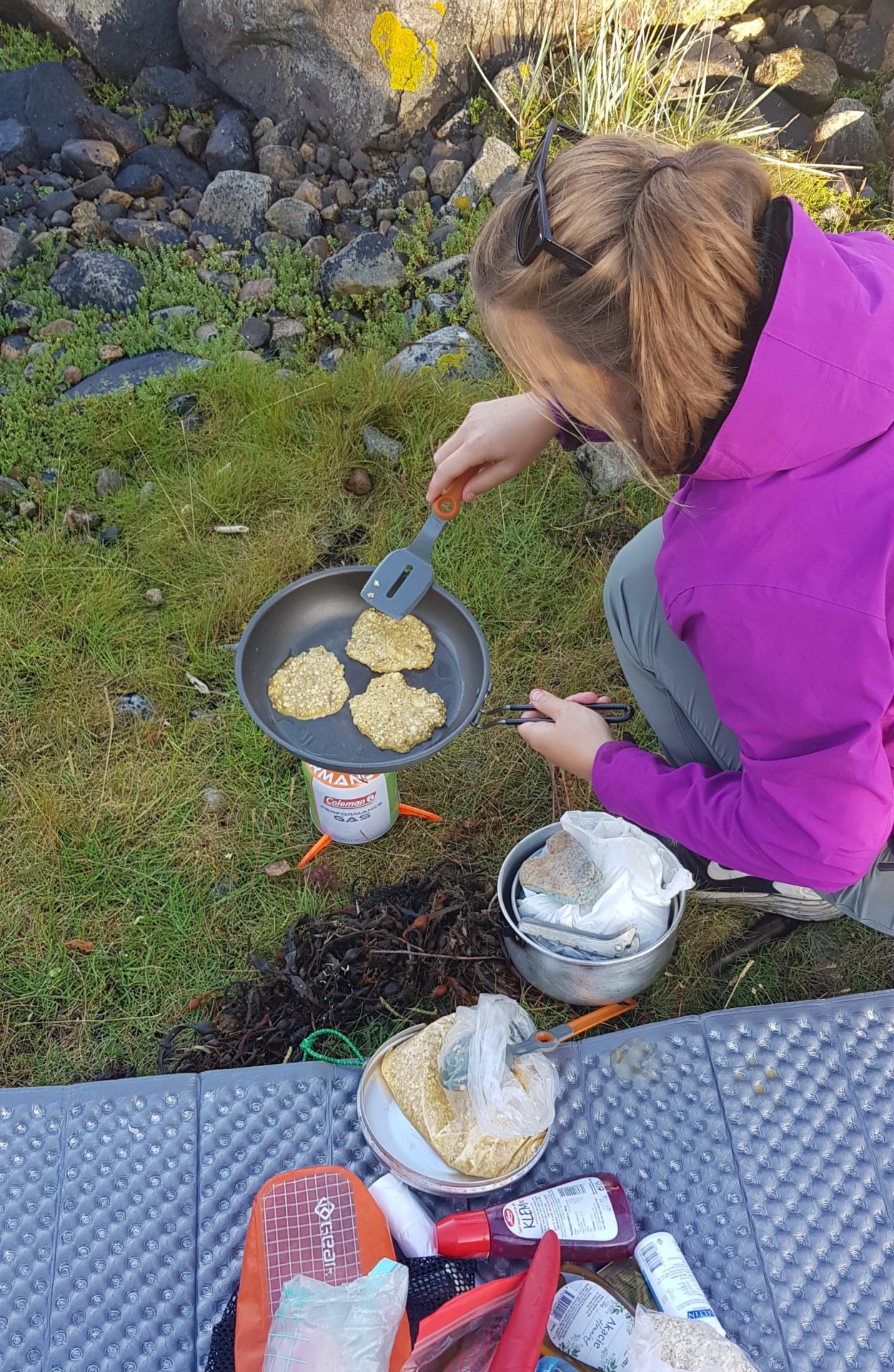 Pancakes for breakfast.
Electronics
Now we're getting closer to the nice-to-haves than the need-to-haves. In basic, all electronic you need is a phone to be able to call for help and a headtorch to see in the dark. You won't even need a power bank if you keep it turned off until you need it. I highly recommend trying out to go offline on trips; I do it for most of my trips. 
Phone

. You must bring your phone with you to be able to call for help. When paddling it's a good idea to have it on you in a dry bag, in case you should lose the kayak. The cellular connection is very good in Norway, and the Norwegian Paddler Federation (NPF) actually recommends a mobile phone over a VFR-Radio for signalling. 

Headtorch

. For when the sun goes down. I've been using a small headtorch with 90-140 lumen as it provides good battery-life, sufficient light and is compact. You won't need a floodlight, as you most likely will not be paddling in the night even if so, your natural night vision is better. 

Camera

. To capture all the action and beautiful scenery, I recommend a compact-camera like the Canon Powershot or even Olympus Tough, which is waterproof.

Power bank / solar charger

. A power bank is useful for fueling your devices. Anker power banks offer excellent quality and are not very expensive. 

Extra batteries

. Bring extra batteries for the headtorch or other devices. 
Other / Miscellaneous
Sunscreen

. When we paddle, we're exposed to the UV-light of the sun, both from the sky and the reflection on the water. 

IKEA-Bags

. This is one of the best tips in the entire post. Get two or three IKEA bags (yes the blue ones) to load all your gear in when unloading the kayak. Instead of having to walk back and forth between the camp spot and the kayak a few times, you will do with just one in a big haul. 

Sunglasses

+ Strap. To protect your eyes, you should always bring sunglasses when paddling. Even on a clouded day you can get a sunburn or get snowblind. We're exposed two times more than on land, from both the sky and the water. Get a cheap, but colourful neoprene strap, which will prevent the glasses from sinking in case you drop them in the water.

Multitool

+ repair kit. If you need to repair your kayak or kit.

Thermos/Vaccum Flask

. A must-have in the shoulder seasons in April-May and September-October. You can get hot water to warm yourself in the morning, the lunch break or the evening. It should be a part of your safety kit as well to treat hypothermia. 
In this article, I haven't included the paddling equipment as this will be covered in a separate one later on.
You can find the full packing list in excel format here.