At the beginning of the kayak season (spring), nature is a wonderland of savoury herbs and wild plants. I've gone out to gather ramson, a common and very tasteful herb in Scandinavia, favoured by chefs in the «new Nordic kitchen». It's a good substitute for garlic and spring onions.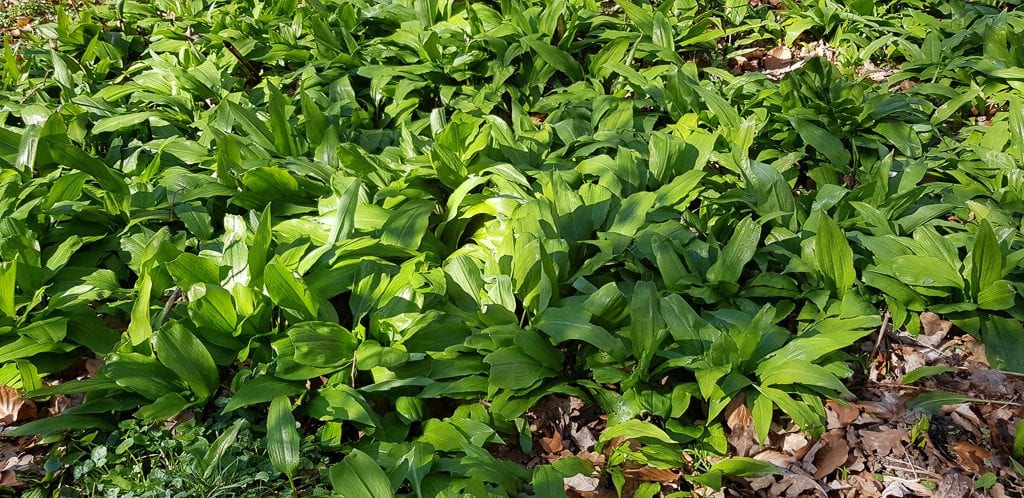 Ramson:
Ramson is easy recognised for its smell and taste of garlic. They're often found covering large areas covering the ground like a blanket, which makes them possible to smell several meters away.
The leaves are up to 30cm tall, 2-5cm wide, shaped like a spear and grow in April-June. They are usually found in damp woods and hedgebanks.
It can easily be mistaken or confused with either «Lilly of the Valley» or «Meadow Saffron», both very poisonous, but none of them tastes or smell of garlic. This makes gathering ramson, quite safe – as long as you can smell the garlic.
In the kitchen
In the kitchen, ramson can be used for a lot of different things. It's good with Salmon, Pollock and Blueshell. It can also be used in patés, pesto, flavoured-oil, butter, mayonnaise or pickled. I'm going to make a Ramson Pesto, which is very delicious on toasted rye bread (rugbrød). You will need:
A few handfuls of ramson
A few handfuls of pine nuts
Some parmesan
Salt
Olive oil
Optional: Lime juice
Roast the pine nuts on a pan until brown/golden. Add ramson, roasted pine nuts, parmesan and salt to the food processor and blend it. Add olive oil and lime juice while still mixing until you get the substance you want.
Extra tip: For storing in a refrigerator, add about a half centimetre of olive oil on top of the pesto before closing the lid. This way the pesto will stay fresh up to a year.
Sources:
Mabey, R. (2012). Food For Free. London: HarperCollins Publishers.
https://www.matprat.no/oppskrifter/kos/ramslokpesto/
http://www.rolv.no/urtemedisin/medisinplanter/colc_aut.htm
http://www.rolv.no/urtemedisin/medisinplanter/conv_maj.htm